Instructions for installing the Solar Feed indicator
The data obtained through the API can be visualized in graphical form. As an example, we offer you to get acquainted with the variant of realization for the Metatrader 5 platform.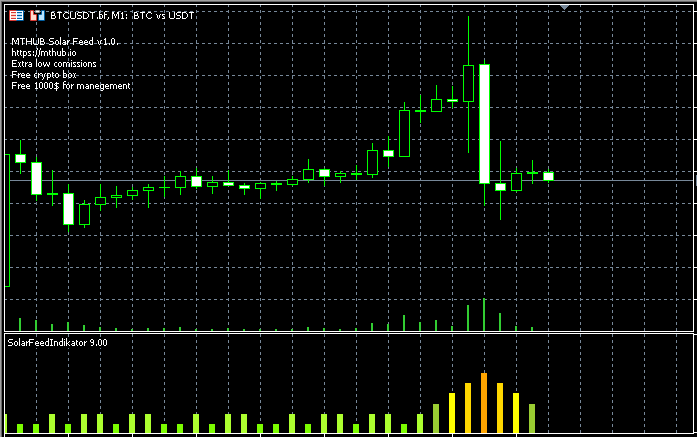 The indicator contains values from 0 to 9 on the K1 scale - global planetary index of geomagnetic activity. The corresponding color and height of the column will be displayed on the graph:

You need to download two files:
SolarFeedIndiсator.ex5
Indicator file for installation only on M1 timeframes. Outputs the histogram in a separate window below the chart on which this indicator is installed.
SolarFeedDataToFile.ex5
Auxiliary Expert Advisor file, the purpose of which is to call the API for the data for the indicator. The advisor forms a separate file on the local computer in JSON format - C:\Program Files\MetaTrader 5\MQL5\Files\SolarFeed.json. Without this advisor, the indicator cannot receive external data via API.
Indicator installation in Metatrader 5.
Step 1 - Copying files.
1. It is necessary to open the data directory of the platform. To do this, go into MT5, then File -> Open Data Folder.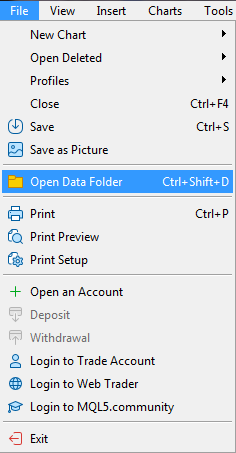 2. In the directory that opens (C:\Program Files\MetaTrader 5\) go to the MQL5 folder. The Expert Advisor file must be copied into the "Experts" folder, and the indicator file into the "Indicators" folder.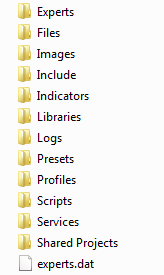 3. After copying the files, you must restart the platform. The indicator and the Expert Advisor will appear in the platform window list.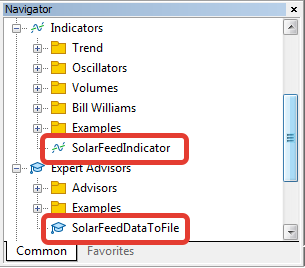 4. For the indicator to work correctly, you need to add the server address https://solarfeed.mthub.io/ to the list from which data is taken. To do so go to Tools -> Options Expert Advisors. For quick access to the Options menu, you can use the hot keys Ctrl + O and open the "Experts Advisors" tab.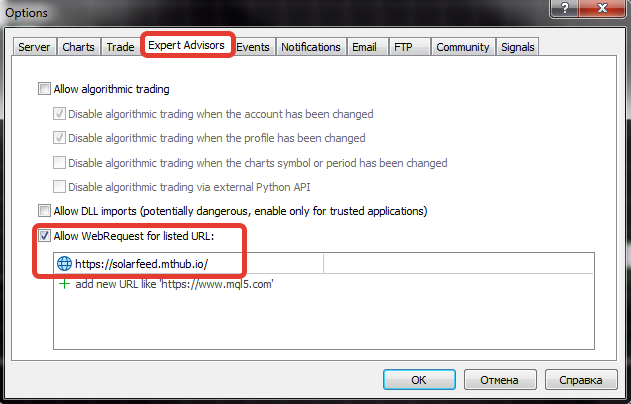 Step 2 - Installation on the chart
Working with built-in tools is simple - just drag the required indicator to the chart from the toolbar. You can also add it via the menu - to do this, go to "Insert", go to "Indicators" and select the desired option.
1. The first thing to do is to install the SolarFeedDataToFile auxiliary advisor. It can be installed on any chart you like. To do this, double-click on its name and in the window that appears, put two check marks - pay special attention to this. The icon and the name of the Expert Advisor should appear in the active chart window in the upper right corner.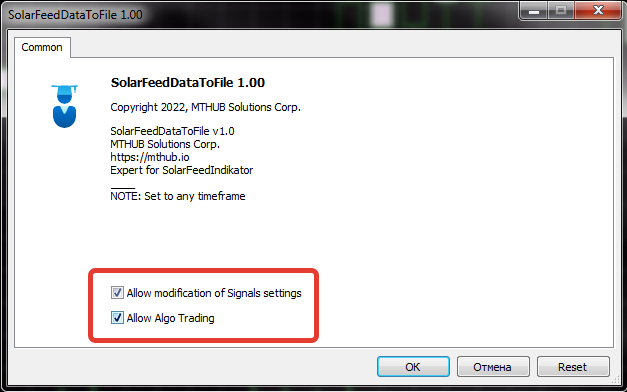 2. Open the window of the chart on which you want to install an indicator, use only the M1 time frame. Next, install the indicator SolarFeedIndicator, you can do this by double-clicking. In the window that appears, check the box and click OK.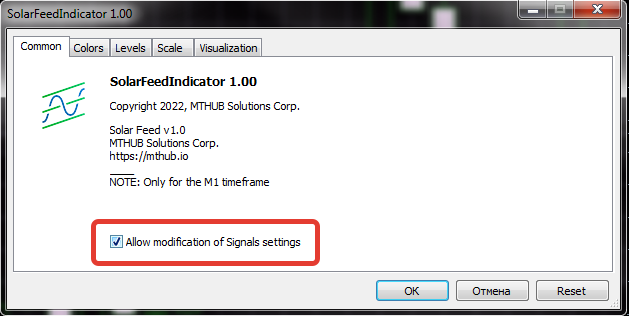 Congratulations, the installation is successfully completed.